News
Pattern Group Official Partner of Artissima 2022 and joins the "Made in" project
November 07, 2022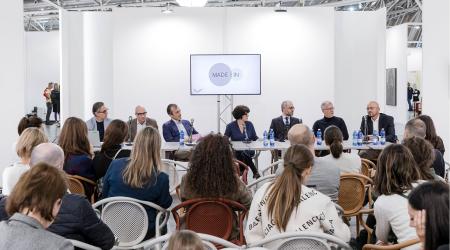 Pattern Group is the Official Partner of the 29th edition of Artissima International Contemporary Art Fair of Turin, the only event in Italy exclusively dedicated to contemporary art.
A decision that underscores the Company's bond with its local community - the name "Made in" comes as no surprise - and with art in general. Catalyst of artistic experimentation and research  Artissima is in fact internationally recognized for its attention to experimental practices, a closeness therefore strongly felt by Pattern Group, which has always defined itself as a company of "technological craftsmen".
THE "MADE IN" INITIATIVE

Pattern Group, together with 3 other Turin-based businesses, has chosen to join the "Made In" initiative by Artissima to reaffirm its attention to the growth and training of young talents and to consolidate the relationship between art and business.
Moving from the idea that company know-how and specialized production processes represent a resource for the creation of works of art, Made In's mission is to establish an Academy for young artists that allows them to live inside the company and to embrace and breathe, as part of their research, the surrounding technological and operational knowledge.
The initiative was announced on Sunday 6 November during the dedicated talk, in the presence of the Turin Chamber of Commerce, attended by Luca Sburlati - CEO of the Group - which represented the start of a project aimed at creating four works that will encompass the Company's production process within production.