News
The Italian Hub of Luxury Fashion Engineering completes the first phase of growth
July 18, 2022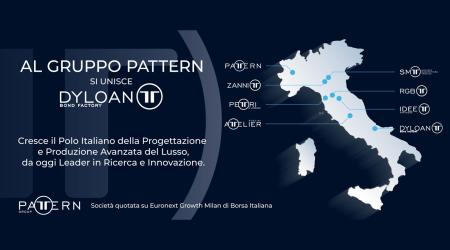 The Italian Hub of Luxury Fashion Engineering completes the first phase of growth, thanks to the alliance closed today with Dyloan-Bond Factory, by verticalizing the activities of R&D and advanced production. The Group thus exceeds € 100 million turnover
An objective achieved to date thanks to the partnership with Dyloan - Bond Factory, an Abruzzo company based between Chieti and Pescara, leader in innovative technologies and R&D as well as an advanced production hub (thanks also to the recent acquisitions in 2022 of Orlando Confezioni and the T-Shock business unit), which allows the Group to verticalize its research and technological applications as well as production activities. The consolidated  Group, projecting the 2021 turnovers for the entire year of all the companies acquired to date (with the exception of RGB, which began operations in July 2021), today exceeds € 100 million in turnover and employs approximately 800 people.
A second phase therefore begins for Pattern Group, which aims at consolidating and developing the existing hubs in the different Italian districts.
Luca Sburlati, Pattern Group CEO, together with Franco Martorella and Fulvio Botto, Founders and Majority Shareholders of Pattern, comment: "We are proud that a new district, the Abruzzo one, joins those already included in our Italian industrial project. Through the partnership with Dyloan / Bond Factory, in fact, the Group completes the first phase announced in the listing: the creation of the Italian Hub of Luxury Fashion Engineering.
Now we are able, with the experience of Anna Maria and Loreto Di Rienzo - founders of Dyloan - and their team, to internalize the best innovative technologies and R&D applied to luxury thanks to D-house in Milan, and to proceed towards the verticalization in Abruzzo of the activity on high-tech processing with Bond Factory and of outerwear production with Orlando Confezioni. A perfect union.
Pattern Group is born from an idea and now it is finally realized. Now the human and industrial growth of each of our Italian hubs awaits us."
Today the alliance with Dyloan leads to the integration of the R&D and production phase within the Group.
Pattern Group will therefore be present in the main product categories (men's and women's lines, clothing and accessories, still fabrics, knitwear and leather goods) starting from the research and engineering phase up to production. A strategic partnership therefore considering that Dyloan has been able over the years to internalize the best innovative technologies and R&D applied to luxury, thanks also to the creation and development in Milan of D-House, a creative and research laboratory.